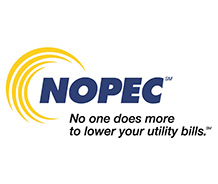 Welcome NOPEC aggregation customers to NextEra Energy Services Ohio, LLC!
We are excited to have been selected as NOPEC's natural gas supplier for eligible customers located within the Columbia Gas of Ohio and Dominion East Ohio Gas service areas and NOPEC's electricity supplier for eligible customers located within the AEP, Cleveland Electric Illuminating Company (CEI) and Ohio Edison Company (OE) service areas. This special partnership is separate from NextEra Energy Services' electricity business, and available only for eligible customers within NOPEC communities.
As always, the other functions of repair, delivery, and billing will continue to be provided by either:
ColumbIa Gas of Ohio
Dominion East Ohio Gas
American Electric Power
Cleveland Electric Illuminating
Ohio Edison Company
Please review the Frequently Asked Questions (FAQs) below for details, including how to contact us for more information.

NOPEC Electric Aggregation Form
NOPEC Community Pricing Request
NOPEC Aggregation Environmental Disclosure Label