NextEra Energy Services' Fixed Price products give you price certainty AND term flexibility. You can fix your electricity price for up to 60 months so you can have peace of mind and get back to business.
NextEra Energy Services' Fixed Price product allows businesses to secure commodity price protection with a fixed commodity rate during the term of the contract.
With a Fixed Price product, businesses mitigate the risk associated with fluctuating energy prices, creating the peace of mind necessary to focus on core business operations.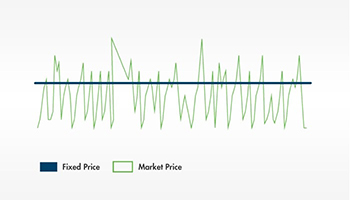 The graph represents how the market price, in green, fluctuates up and down over time; while the fixed price is a steady blue horizontal line.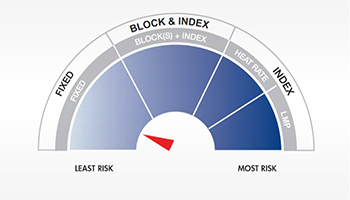 Image displays various levels of risk with fluctuating energy prices, indicating the fixed price offers the least risk and the Location Marginal Pricing (LMP) Index offers the most risk.
Product Overview
PRODUCT
Fixed Price
FEATURES
Fixed commodity rate per kWh for the term of contract
CONTRACT OPTIONS
Up to 60 months
POTENTIAL RISK
Low
ADVANTAGES
Greater budget certainty
Greater financial predictability
All Commercial products are subject to specific terms and conditions in applicable customer agreements. Certain components of Fixed Price products may fluctuate and certain changes may be separately billed or passed through to customer, including utility charges and taxes. NextEra Energy Services makes no representation or warranty as to actual product prices or the direction, trend, movement level or range of product prices, wholesale or retail electricity or natural gas prices, and customer is relying on its own judgment and upon advice from advisors as it deems necessary, and is solely responsible for determination of its risk tolerance for any product and its decision to purchase any product and related risks. No communication--oral, written or electronic--from NextEra Energy will be deemed to be representation, assurance or guaranty as to the expected service or performance of any product. NextEra Energy Services operates through various affiliated entities.